As the City moves forward from a global pandemic, economic recovery sits at the intersection of every important decision we make. The nonprofit sector led New York City through 2020, innovating along the way to meet the changing needs of our community as the entire country faced unprecedented challenges. Now, more than ever, it's clear that New York City needs nonprofits to build back stronger. So, nonprofits across the city have come together under one name: Nonprofits Make New York, raising our voices so that ALL New Yorkers – government officials, business leaders, social justice advocates, everyday people and more – recognize that nonprofits are a fundamental part of what makes our diverse and vibrant city so special.
With a renewed commitment to racial equity, our coalition has the chance to radically re-imagine New York City and in the process, change the way New Yorkers view nonprofits. Nonprofits Make New York will focus on rebuilding a more equitable, sustainable and effective sector; and in the process ensure that nonprofits receive a level of recognition, support, and respect that reflects our significant and multifaceted contributions to the New York City region. New York's nonprofit sector is essential in shaping the community, culture and economy.
Take action
Sign up for the Nonprofits Make New York email list to stay up to date on upcoming news and events from the coalition.
We want our sector to achieve the recognition, respect and support we deserve and we can make that happen if we come together as neighbors and show support for the local nonprofits that shape our everyday lives.
By signing up for our email list, you can expect updates on key proposed legislation, coalition member announcements, and invitations to coalition-sponsored events where you can come out, support and celebrate with your favorite nonprofits.
Want to support the work of the Nonprofits Make New York Campaign?
Post to Facebook, Instagram and Twitter spotlighting your favorite local nonprofits! Share the reasons why they make your neighborhood and the city at large vibrant and unique. Don't forget to use the campaign hashtag, #NonprofitsMakeNewYork and tag your favorite organization.
Are you a New York City nonprofit that would like to join the coalition?
Send an email to [email protected] to learn more.
So, how many nonprofits did you come in contact with today?
You're probably thinking none — but let's take a look at your day, together:
Did you pick up your groceries at a local food bank?
Did you visit a park? Or a playground?
Does your child attend after school programming?
Did you stop into any of your favorite exhibits on Museum Mile?
Did you visit a house of worship or religious center today?
Do you have a local community garden?
Do your children go to arts and dance classes?
Have you called a helpline to receive assistance for a range of complicated programs?
Have you looked into a workforce development course?
Are you involved in civic engagement such as your block association or your child's parent-teacher association?
If you said yes to any of the above, you are a proud patron of a New York nonprofit! Here are some additional examples of what nonprofits can be:
Provision of human and social services
Healthcare
Cultural institutions
Parks and gardens
Educational institutions
Landmarks and city planning organizations
Advocacy
Journalism
Civic organizations
Performing arts
Think-tanks and municipal innovation
Civil and social rights pioneers
Community-based efforts
Mutual aid
Who are your local nonprofits?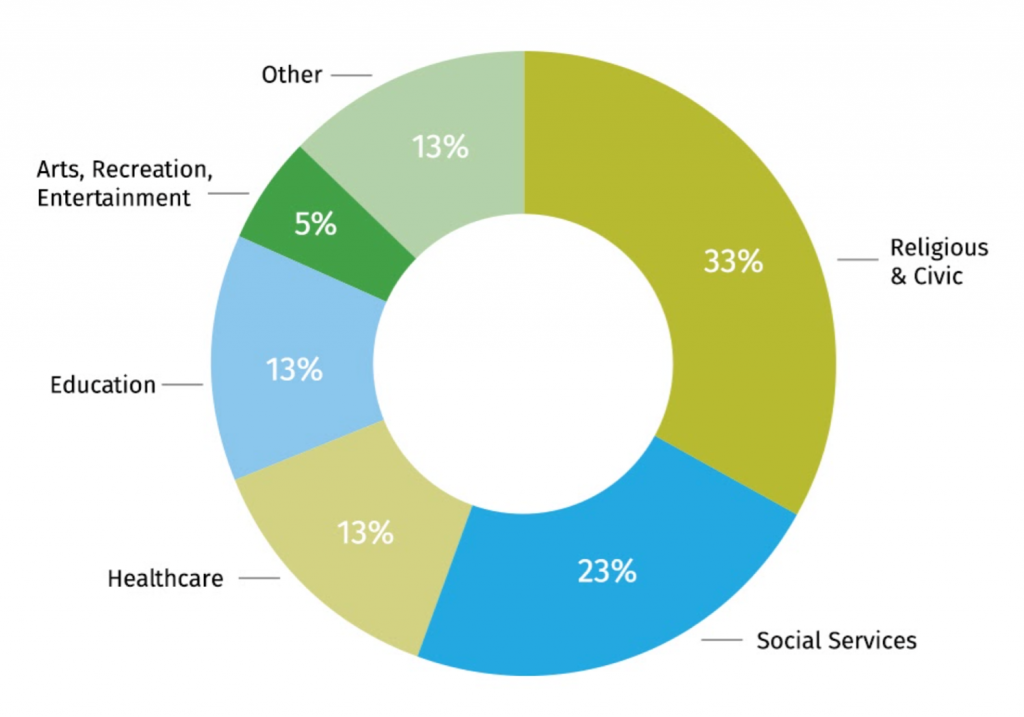 Religious and civic: 33%. Social Services: 23%. Healthcare: 13%. Education: 13%. Arts, Recreation, Entertainment: 5%. Other: 13%.
New York's nonprofits are crucial drivers of the City's economy and cultural fabric – they provide essential cultural, educational, health, and social services, and employ a substantial percentage of the City's private workforce. In fact, New York City nonprofits generate billions of dollars for the local economy annually. As we emerge from COVID-19 lockdown protocols and enter the "new normal" it's important that we ensure our local nonprofits are economically and socially supported. Building a stronger and more sustainable city is only possible if elected officials recognize nonprofits as important, substantive partners.
It's time elected officials, corporate partners, funders, and the media understand that Nonprofits Make New York – we are a fundamental part of the New York City region, critical not only to its survival and recovery but also a key part of efforts to create a more equitable, sustainable and vibrant place.